With the American Library Association announcing its choice for this year's
Caldecott Medal
(the very deserving Brian Floca for
Locomotive
), it's time to turn the page on 2013 and take a look ahead to some of the great titles heading our way in 2014.
It's early, but there is already one short and curious character that, in my opinion, stands head and shoulders above the rest.
The Adventures of Beekle: The Unimaginary Friend by Dan Santat (Little Brown; April)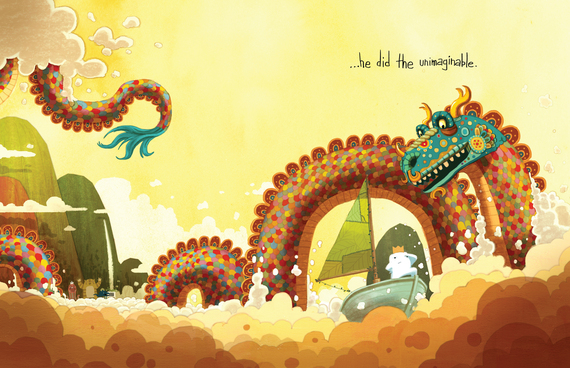 Dan Santat is one of the hardest working people in the industry today. And while his immense talent was always evident, Beekle takes his artistry to a new level. The story (which is just bursting at the seams with charm) begins on an island of colorful creatures, each waiting to be imagined by a special child and thus transported to the real world. Our hero, a marshmallowy fellow with a scotch-taped crown waits and waits... and waits before deciding to take matters into his own hands. He does the unimaginable and sets out to find a friend for himself.
As with all great books, Beekle has an air of inevitability about it. As if somewhere out there is an island of perfect stories just waiting for the right person to come along and imagine it into being. We should all be grateful that Santat, with his brilliant use of color and humor, was here to bring Beekle to life.
Now here are some of the best of the rest (in alphabetical order):
Bluebird by Lindsey Yankey (Simply Read; January)
Take Bette Midler's "Wind Beneath My Wings", only remove all traces of Bette Midler, and you've got the lovingly illustrated Bluebird.
Don't Play with Your Food! by Bob Shea (Disney/Hyperion; January)
Shea has established himself as the rainbow suspenders of the kid's lit world... and I mean that in the most flattering way possible. With a distinct style that is slightly manic yet charming, totally wacky yet surprisingly touching, his books demand your attention.
Josephine by Patricia Hruby Powell, illustrated by Christian Robinson (Chronicle; January)
This is the story of a true American original, which to its great credit does not shy away from Baker's complicated relationship with America and racism. Her life is best summed up by the opening quote from Josephine Baker herself: "I shall dance all my life... I would like to die, breathless, spent, at the end of a dance."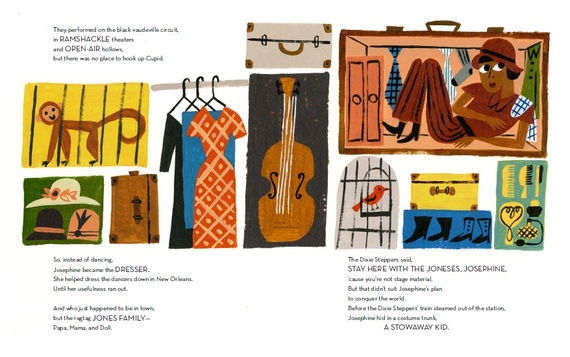 Hannah's Night by Komako Sakai (Gecko Press; March)
No one, and I mean no one, captures the subtle curiosity of little children better than Sakai.
Have You Seen My Dragon? by Steve Light (Candlewick; April)
Inspired by the steam coming out of New York's manhole covers (which the young author's father said was dragon's breath), Light offers up a winding story of a young boy wandering through a bustling cityscape in search of his dragon. The book does a great job of contrasting intricate black and white line drawings with a bold use of color that will draw kids in, not just to look for the dragon, but to explore the curiosities of the city itself.
Here I Am by Patti Kim and Sonia Sánchez (Capstone, January)
A beautiful story about the challenges of moving to a new country, Sánchez's hectic style effectively captures the sometimes overwhelming nature of the immigrant experience. The book also deftly shows the young boy acclimating to his new surroundings, while also recognizing that his culture has something beautiful to offer this new home.
Hooray for Hat! by Brian Won (Houghton Mifflin Harcourt; June)
The illustrations in this book that makes you want to have a baby just so you can decorate the nursery and parade around in silly hats.
Lindbergh: The Tale of a Flying Mouse by Torben Kuhlmann (NorthSouth; May)
Perhaps the most visually stunning book of the year,
Elizabeth Bird of the School Library Journal
is not kidding when she says that "the sheer beauty of this book is likely to overwhelm the senses." And while the story of a mouse with big dreams doesn't feel particularly new, Kuhlmann's talent takes it to new heights. His illustrations show that along with the exciting spirit of adventure there is also an accompanying darkness--whether it be mousetraps, the threat of failure, or jealous owls. The breathtaking illustrations have the realistic feel of archival footage, a quality which lends the story a pseudo-historical heft.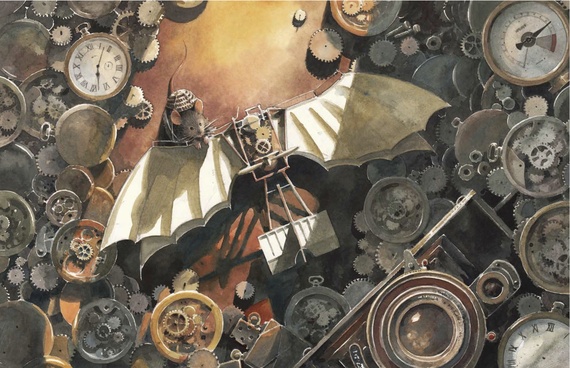 Little Mouse by Alison Murrary (Disney/Hyperion; June 2013)
Not wanting to be pigeon-holed as her mother's "little mouse", a young girl shows off the full range of her animalistic tendencies. Of course, at the end of the day, she realizes that there's a time an place for everything, even a little mouse.
The Noisy Paint Box: The Colors and Sounds of Kandinsky's Abstract Artby Barb Rosenstock, illustrated by Mary GrandPré (Random House/Knopf; February)
I'll admit that I have a soft spot for artist biographies... and this is one of the best around. The book begins with young Kandinsky discovering that he has a synesthetic ability to hear colors and then follows his journey to becoming a pioneer of abstract art. It must be a daunting task to illustrate a book about a master painter, but GrandPré is more than up to the challenge. Together, she and Rosenstock deliver a hauntingly beautiful portrait that feels like an early contender for the next Caldecott.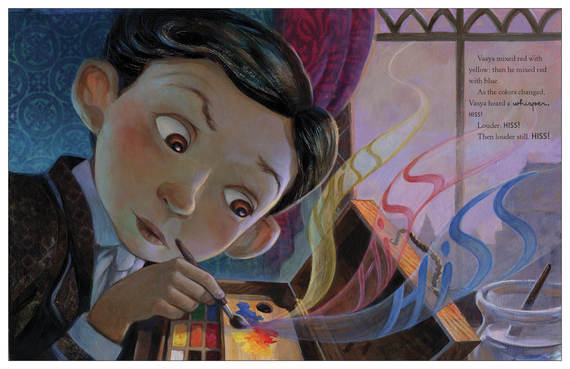 None the Number by Oliver Jeffers (HarperCollins; July)
For children's book aficionados, any Oliver Jeffers release is cause for celebration. This stylish take on the counting book (part of his Hueys series) is no exception.
The Pilot and the Prince: The Life of Antoine De Saint-Exupéry by Peter Sís (Macmillan/FSG; May)
The Little Prince is one of the bestselling books of all time, but the author's life is perhaps the even better story. Sís, with his inimitably meticulous style, gives you a lot to explore and it is worth every second.
The River by Alessandro Sanna (Enchanted Lion; February)
The most mysterious book I've seen so far this year, it feels as if it were dug up along the banks of a muddy river, containing some kind of elemental wisdom within.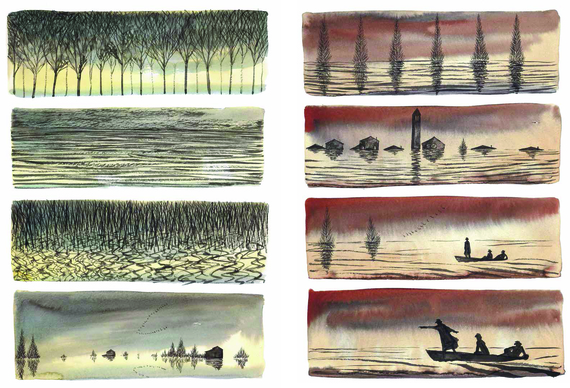 Tea with Grandpa by Barney Saltzberg (Macmillan/Roaring Brook; April)
A timely little book with a cute twist at the end, Saltzberg's story will resonate with families doing their best to keep in touch with loved ones from afar.
CORRECTION: A previous version of this post suggested that Little Mouse by Alison Murray will be published in 2014. Little Mouse was published in 2013. The post has been updated to clarify this.