I recently got the chance to post my picks for
Best Picture Books of 2013 on the Huffington Post
. Believe it or not, more surprising that what made the list is how many great titles didn't make the cut... but I had to draw the line somewhere. Of at least that's what my editors tell me.
-----------
Posted: 12/04/2013 7:10 pm
With everything from a sweeping biography of Nelson Mandela to a story about a unicorn that can make it rain cupcakes, 2013 was another great year for picture books. This is particularly notable because 2013 was the first full year after the death of the legendary Maurice Sendak and marked the 50th anniversary of his classic Where the Wild Things Are.
While it's impossible to replace an icon like Sendak, this year's offerings reminded us that the field of children's literature is still rich with talented writers and illustrators to carry on the tradition of making great picture books. Here are some of the year's best, starting with my choice for the Best Picture Book of 2013.

Best Overall
No Fits, Nilson! by Zachariah OHora (Penguin/Dial)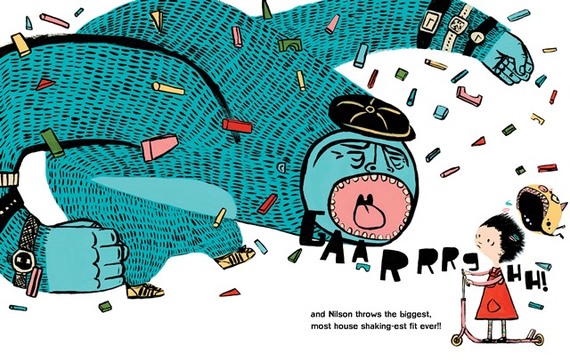 You wouldn't think that a story about a girl and her imaginary friend (a giant blue gorilla with a funky fashion sense and anger management issues) would feel like the most honest book of the year, but that's the magic of No Fits, Nilson!. Funny, boldly illustrated, and with a charming twist at the end, Nilson has universal appeal because everyone struggles to control their anger... even us so-called grown-ups. Like it or not, despite our best intentions, we're all just a few mishaps away from losing control of the thumping gorilla within.

Best Escape
Journey by Aaron Becker (Candlewick)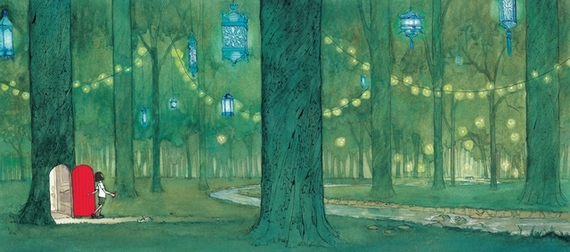 (JOURNEY Copyright © 2013 by Aaron Becker. Reproduced by permission of the publisher, Candlewick Press, Somerville, MA.)
Becker's wordless masterpiece is both timely and timeless, drawing inspiration from the classic
Harold and the Purple Crayon
to draw the reader into an entirely new and beautifully-rendered world. Becker has a background in film and it shows in his dramatic pacing and intricate illustrations, which rival the most elaborate of Hollywood set designs. At turns soaring and haunting, it is no surprise that Journey is the front runner for this year's Caldecott. (It also doesn't hurt to have the press showing
the President of the United States buying your book
.)
(Honorable Mention: The Nowhere Box by Sam Zuppardi; Please Bring Balloons by Lindsay Ward; Dream Boats by Dan Bar-El, illustrated by Kirsti Anne Wakelin; Emma in Paris by Claire Frossard, illustrated by Christophe Urbain; Rosie's Magic Horse by Russell Hoban, illustrated by Quentin Blake.)

Most Fun
Niño Wrestles the World by Yuyi Morales (Macmillan/Roaring Brook)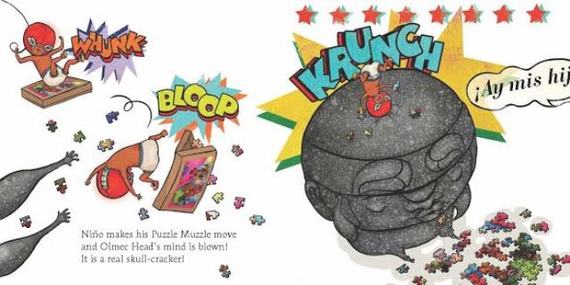 A rambunctious young boy imagines himself as a champion luchador, taking on challengers from all over the world (and some from beyond). His enthusiasm is infectious as each page bursts with energy and playfully inventive wrestling moves. However, Morales truly flexes her illustrator muscles with the subtle complexity of Niño's expressions: knowingly impish grins that say "Of course, I know this is all make-believe... and I am enjoying every second of it".
(Honorable Mention: Mr. Tiger Goes Wild by Peter Brown; Unicorn Thinks He's Pretty Great by Bob Shea; Fraidyzoo by Thyra Heder; The Day the Crayons Quit by Drew Daywalt, illustrated by Oliver Jeffers; Giant Dance Party by Betsy Bird, illustrated by Brad Dorman.)

Most Powerful
Knock Knock: My Father's Dream for Me by Daniel Beaty, illustrated by Bryan Collier (Little, Brown)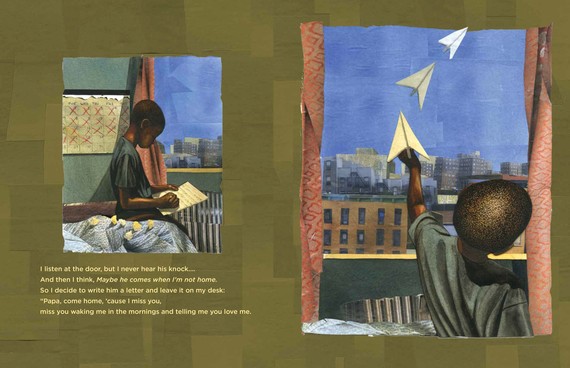 Based on Beaty's powerful spoken word and poetry, this is a touching story about a young boy struggling to piece together his identity using the fragmented memories of an absent father. This struggle is mirrored perfectly by the fragmented nature of Collier's collages, which are an inspired choice for illustration. Challenging but ultimately uplifting, Knock Knock is a thoughtful meditation on grappling with the sometimes uneasy legacy passed down to us by our parents.
(Honorable Mention: Jemmy Button by Jennifer Uman, illustrated by Valerio Vidali;Bluebird by Bob Staake; One Gorilla by Anthony Browne; The Dark by Lemony Snicket, illustrated by Jon Klassen; Year of the Jungle by Suzanne Collins, illustrated by James Proimos.)

Most Heartwarming
Wait! Wait! by Hatsue Nakawaki, illustrated by Sakai Komako (Enchanted Lion)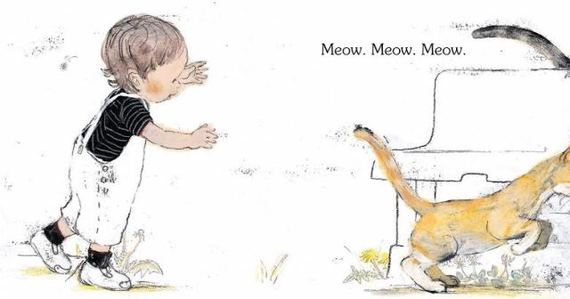 A child's first steps come with a mix of freedom and frustration (and a blend of joy and terror for the parent). With spare text and stark but lively illustrations, Wait! Wait! does a masterful job of capturing that magical window of time when a toddler first ventures clumsily out into the world.
(Honorable Mention: If You Want to See a Whale by Julie Fogliano, illustrated by Erin Stead; Once Upon a Memory by Nina Laden, illustrated by Renata Liwska; How to by Julie Morstad; The Matchbox Diary by Paul Fleischman, illustrated by Bagram Ibatoulline;Hank Finds and Egg by Rebecca Dudley.)

Most Charming
Herman and Rosie by Gus Gordon (Macmillan/Roaring Brook)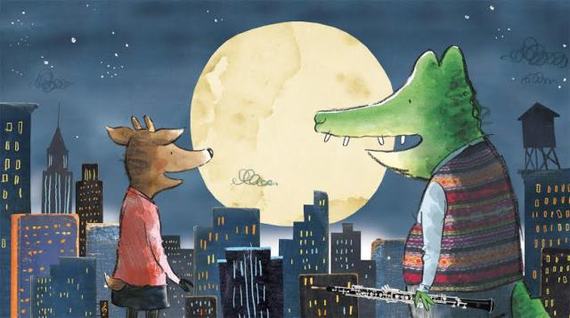 In the tradition of Woody Allen's Manhattan, this is less a love story about two people (or in this case, animals) and more a love song about life in New York City. Presented with a deft mix of illustration and collage, you want to live in Gordon's New York, which is sometimes moody and isolating, but always charming and teeming with possibility.
(Honorable Mention: My Name is Ruby by Philip Stead; Big Snow by Jonathan Bean; The Mighty LaLouche by Matthew Olshan, illustrated by Sophie Blackall; The Line by Paula Bossio; Tea Rex by Molly Idle.)

Best Metafiction
Battle Bunny by Jon Scieszka and Mac Barnett, illustrated by Matthew Meyers (Simon & Schuster)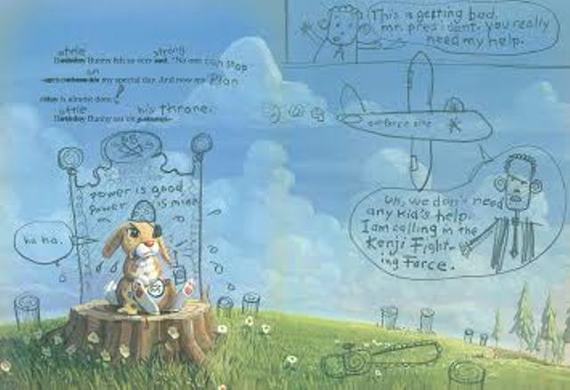 Battle Bunny is the most talked about book of the year... or maybe it just seems that way because I've been talking about it all year. To create this innovative work, Scieszka, Barnett and Meyers started by producing the most cloyingly sweet book they could think of:Birthday Bunny. They then conjured up a young boy to deface the book, turning it into something he actually wants to read: Battle Bunny. Subversive without being mean-spirited, the book playfully upends the conventions of narrative. Just watch as they introduce a complex concept like authorial intent... and then gleefully give it an atomic wedgie.
(Honorable Mention: Open this Little Book by Jesse Klausmeier, illustrated by Suzy Lee;The Story of Fish and Snail by Deborah Freedman; Ike's Incredible Ink by Brianne Farley;Warning: Do Not Open This Book! by Adam Lehrhaupt, illustrated by Matthew Forsythe;Little Red Writing by Joan Holub, illustrated by Melissa Sweet.)

Best History/Biography
Locomotive by Brian Floca (Simon & Schuster)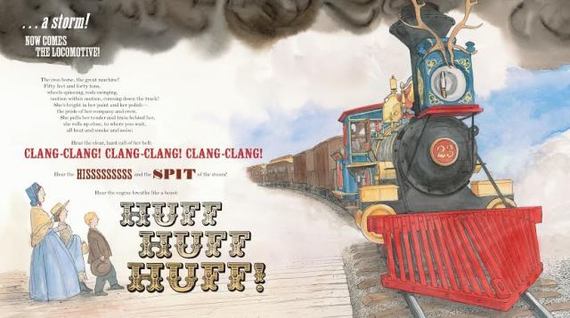 It's not often that a picture book can be described as "magisterial", but such is scope of Floca's achievement here. Starting with the breathtaking cover which has you staring down an oncoming locomotive, the book takes the reader on a cross-country trip during the early days of the steam train. The text is bolstered by exhaustive research, as evidenced by one of the most impressive bibliographies you'll ever see in a picture book. And yet, it is anything but dry due to its rhythmic tone (at times calling to mind the propulsive chug-a-chug-a-chug-a of a train) and illustrations so engaging you practically have to shake the sepia-toned dust out of your hair at the end of the ride.
(Honorable Mention: Nelson Mandela by Kadir Nelson; This is the Rope: A Story from the Great Migration by Jacqueline Woodson, illustrated by James Ransome; The Boy Who Loved Math: The Improbable Life of Paul Erdős by Deborah Heligman, illustrated by LeUyen Pham; Laika: Astronaut Dog by Owen Davey; On a Beam of Light: A Story of Albert Einstein by Jennifer Berne, illustrated by Vladimir Radunsky.)

Best Bedtime
Rock-a-bye Room by Susan Meyers, illustrated by Amy Bates (Abrams)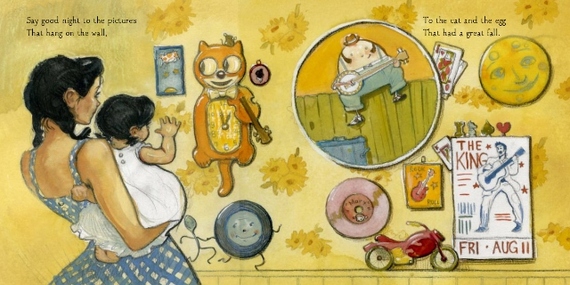 A truly effective bedtime book must strike a balance between two seemingly competing objectives: (1) setting a tone that is actually conducive to sleep and doesn't get the kids all riled up, and (2) being engaging and just interesting enough to bear repeated readings without driving the reader absolutely insane. Rock-a-bye Room hits the right notes on both fronts: it is warm but also has a bit of an edge, and it is sweet without giving you a toothache. With Bates' gorgeous illustrations, the book goes down like a warm glass of milk (followed shortly by a smooth glass of bourbon).
(Honorable Mention: Max and the Tag-Along Moon by Floyd Cooper; Steam Train, Dream Train by Sherri Duskey Rinker, illustrated by Tom Lictenheld; Dream Animals by Emily Winfield Martin; Bedtime Monsters by Josh Schneider; Moonday by Adam Rex.)

Best Miscellaneous
Jumping Penguins by Marije Tolman, text by Jesse Goosens (Lemniscaat)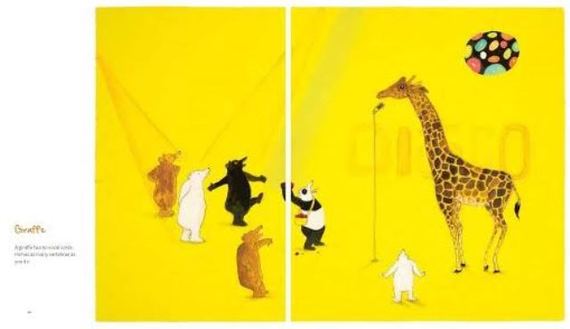 At first glance, you might mistake Jumping Penguins for just another catalog of animal facts, probably no different than a set of flashcards you could pick up at a zoo gift shop. But then you notice Tolman's idiosyncratic illustrations and you realize that there's nothing typical about this book. Surreal, whimsical, and sometimes morbid, Jumping Penguinsdelights in reminding us just how wonderfully weird (or weirdly wonderful) the world can be. For instance, who knew giraffes had no vocal cords and would be so bad at karaoke?
(Honorable Mention: Alphablock by Christopher Franceschelli; Animal Opposites by Petr Horacek; Hello, Mr. Hulot by David Merveille; Crabtree by Tucker and Jon Nichols;Stardines by Jack Prelutsky, illustrated by Carin Berger.)